Search our Store:
Our Products:
Dymo LabelManager D1 Label Tape
Product Description
Dymo D1 Labelling Standard Tape Range
Created specifically for your LabelManager™ and LabelWriter™ Duo label makers, DYMO D1 labels offer the performance and variety you need for most labelling jobs.They adhere to most clean, flat surfaces – including plastic, paper, metal, wood and glass – and feature easy-peel backing for trouble-free application. Versatile, durable and available in a wide variety of widths and colours, D1 labels take the hassle out of home and office organisation.
(SD45013 12mm Black On White Pictured Above).
Specifications
Best for Files & Binders Assets & Barcoding Supplies Storage Home Organization Heat/Cold Resistant UV Resistant Water Resistant
"Easy Peel" for trouble-free application
Thermal transfer printing technology – no ink or toner required
Available in variety of 12 colors and 5 widths
Remove labels without leaving adhesive residue
Adheres to most clean, flat surfaces including plastic, paper, metal, wood and glass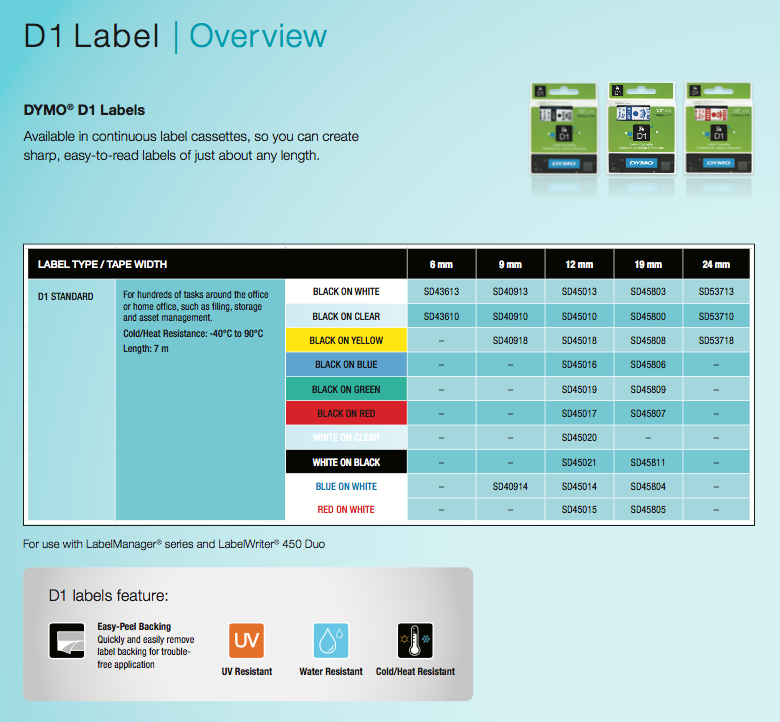 Click Here For The Latest Dymo Catalogue
Click Here For Dymo Industrial (XTL/Rhino) Catalogue
6mm Range
SD43610 - Black on Clear
SD43613 - Black on White
9mm Range
SD40910 - Black on Clear
SD40913 - Black on White
SD40918 - Black on Yellow
SD40914 - Blue on White
12mm Range
SD45010 - Black on Clear
SD45013 - Black on White
SD45018 - Black on Yellow
SD45016 - Black on Blue
SD45019 - Black on Green
SD45017 - Black on Red
SD45020 - White on Clear
SD45021 - White on Black
SD45014 - Blue on White
SD45015 - Red on White
19mm Range
SD45800 - Black on Clear
SD45803 - Black on White
SD45808 - Black on Yellow
SD45806 - Black on Blue
SD45809 - Black on Green
SD45807 - Black on Red
SD45811 - White on Black
SD45804 - Blue on White
SD45805 - Red on White
24mm Range
SD53710 - Black on Clear
SD53713 - Black on White
SD53718 - Black on Yellow
---
Product Reviews
not what I wanted.

Posted by Roz Tucker on 28th Dec 2016

I ordered the D1 24mm x 7m tapes. They arrived. The colour was supposed to be black on white, which is was, but the tape itself is shiny. It makes the print on the tapes hit and miss. The shiny covering is not what I wanted. I just wanted plain white on non shiny tape.

---

Excellent!

Posted by John Tomczak on 8th Jul 2016

I've been using Label Manager 210D for a variety of purposes for some time now, and just very recently I got Model 360D because of its capability to handle the larger 19mm label tapes.

To eliminate the need to change tape widths I use both models.

On the odd occasion when installing a new tape I have experienced a little tape jamming (on Model 210D) but removing the tape and pulling a little bit out further "cures" the problem and then she's right as rain.

But I must say that I thoroughly enjoy using both of them and would recommend them to anyone.



---

Does everything I want

Posted by Arthur Pannell on 5th May 2016

I use the machine to print specie and hybrid names for my orchids having found that these adhesive tapes stand up to at least six years exposure in my sub-tropical shade houses.

---

White on Clear - Mid Letter Cut Off

Posted by Unknown on 13th Apr 2016

This is the second batch of 3 Dymo Labels that I have purchased, the first were perfect no problems at all.

The latest batch of 3 however were all duds. There was a strip on all the letters through the middle horizontally that wouldn't print. It seemed to coincide with where the split had been placed in the removal backing to reveal the sticky side of the tape. At first I thought it was just the first tape real, then tried them all with the same issue. The spilt in thr removalable backing seemed to be off centre. From past labels I have used it was in the dead centre which if this was the case on my last batch of reals wouldn't have caused a problem as the split would have been in the middle of my two line text and not caused incident.

---

White on Clear

Posted by Unknown on 29th Mar 2016

White on Clear, great for using inconspicuously and professionally on Black Technology Products. Looks Great !

---

D1 Tape review

Posted by Tim Knight on 26th Mar 2015

Had a few problems getting the tape to feed but when that was resolved, tape worked beautifully with bold, strong and consistent print.
Wonderful service and very quick delivery.
Very pleased, thank you.

---

Convenient

Posted by Unknown on 4th Mar 2015

Dymo tape is convenient, easy to use and the purchasing/delivery process is uncomplicated. Thank you!

---

Satisfied

Posted by Unknown on 29th Oct 2014

The product was good quality and delivered quickly.

---

Great product

Posted by Unknown on 27th Jun 2014

Good service and very good price

---

Great Price & Service!

Posted by Unknown on 18th Mar 2014

Our school in located in Victoria and we are limited with choice when it comes to purchasing a lot of supplies - Dymo Online prices have saved our school a bundle!

---

It's a wonderful service

Posted by Unknown on 5th Dec 2013

Fantastic way to purchase the label tape, so much cheaper too!

---

So Convenient!

Posted by Unknown on 28th Aug 2013

Love the Dymo Labels tape, so easy to replace and so good to have different colours on offer. Labelling is simple and efficient, thank you!

---

Very User Friendly

Posted by Phillip S on 7th Dec 2012

Found Dymo LabelManager a freat tool to use

---

Exellent Service

Posted by Bob on 18th Nov 2012

The product was the cheapest I could get it and I ordered it on a Sat and it was here on the Tuesday.

---

Simple process to order and pay

Posted by Unknown on 20th Aug 2012

No one else seemed to stock white on black labelling tape

---

Customer Service is excellent

Posted by Zak on 1st Aug 2012

I had to change (add) my order. I phoned Dymo and within 5 minutes the changes were added and the products were shipped off. Received the goods within 3 days in rural QLD.

---

Great Service

Posted by c l on 19th Jun 2012

I accidentally ordered the wrong colour, I sent an email to customer service and straight away they fixed it up for me!
Product is exactly as described works great.

---
---
Customers Who Viewed This Product Also Viewed