Dymo D1 Labelling Standard Tape Range
Created specifically for your LabelManager™ and LabelWriter™ Duo label makers, DYMO D1 labels offer the performance and variety you need for most labelling jobs.They adhere to most clean, flat surfaces – including plastic, paper, metal, wood and glass – and feature easy-peel backing for trouble-free application. Versatile, durable and available in a wide variety of widths and colours, D1 labels take the hassle out of home and office organisation.
(SD45013 12mm Black On White Pictured Above).
Specifications
Best for Files & Binders Assets & Barcoding Supplies Storage Home Organization Heat/Cold Resistant UV Resistant Water Resistant
"Easy Peel" for trouble-free application
Thermal transfer printing technology – no ink or toner required
Available in variety of 12 colors and 5 widths
Remove labels without leaving adhesive residue
Adheres to most clean, flat surfaces including plastic, paper, metal, wood and glass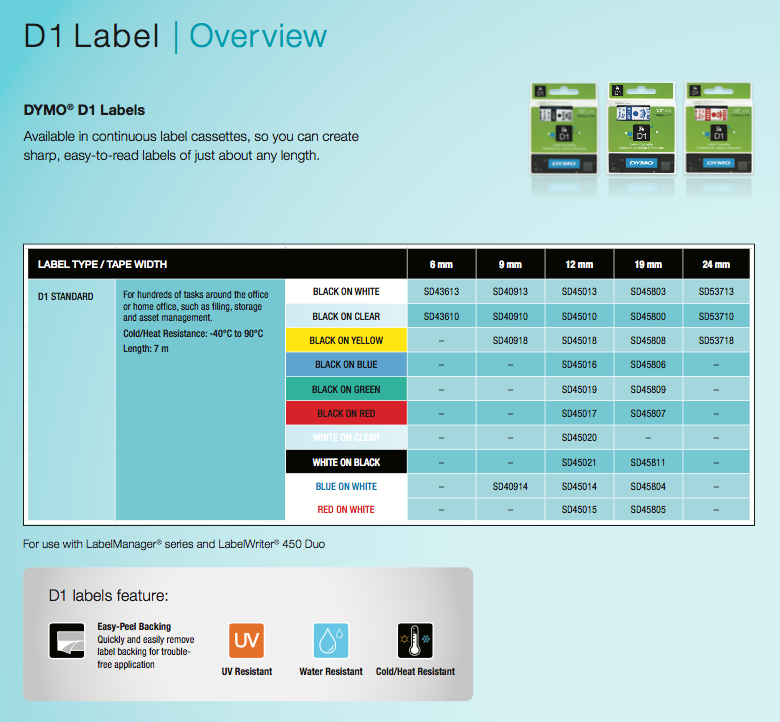 Click Here For The Latest Dymo Catalogue
Click Here For Dymo Industrial (XTL/Rhino) Catalogue
6mm Range
SD43610 - Black on Clear
SD43613 - Black on White
9mm Range
SD40910 - Black on Clear
SD40913 - Black on White
SD40918 - Black on Yellow
SD40914 - Blue on White
12mm Range
SD45010 - Black on Clear
SD45013 - Black on White
SD45018 - Black on Yellow
SD45016 - Black on Blue
SD45019 - Black on Green
SD45017 - Black on Red
SD45020 - White on Clear
SD45021 - White on Black
SD45014 - Blue on White
SD45015 - Red on White
19mm Range
SD45800 - Black on Clear
SD45803 - Black on White
SD45808 - Black on Yellow
SD45806 - Black on Blue
SD45809 - Black on Green
SD45807 - Black on Red
SD45811 - White on Black
SD45804 - Blue on White
SD45805 - Red on White
24mm Range
SD53710 - Black on Clear
SD53713 - Black on White
SD53718 - Black on Yellow
Please note any out of box failures to sales@dymoonline.com.au