Dymo 2093097 D1 Label Tap Mini Bundle of 10 Tapes (45013 12mm x 7m Black On White)
Dymo D1 Labelling Standard Tape Range
Created specifically for your LabelManager™ and LabelWriter™ Duo label makers, DYMO D1 labels offer the performance and variety you need for most labelling jobs.They adhere to most clean, flat surfaces – including plastic, paper, metal, wood and glass – and feature easy-peel backing for trouble-free application. Versatile, durable and available in a wide variety of widths and colours, D1 labels take the hassle out of home and office organisation.
(SD45013 12mm Black On White Pictured Above)
Specifications
Best for Files & Binders Assets & Barcoding Supplies Storage Home Organization Heat/Cold Resistant UV Resistant Water Resistant
"Easy Peel" for trouble-free application
Thermal transfer printing technology – no ink or toner required
Available in variety of 12 colors and 5 widths
Remove labels without leaving adhesive residue
Adheres to most clean, flat surfaces including plastic, paper, metal, wood and glass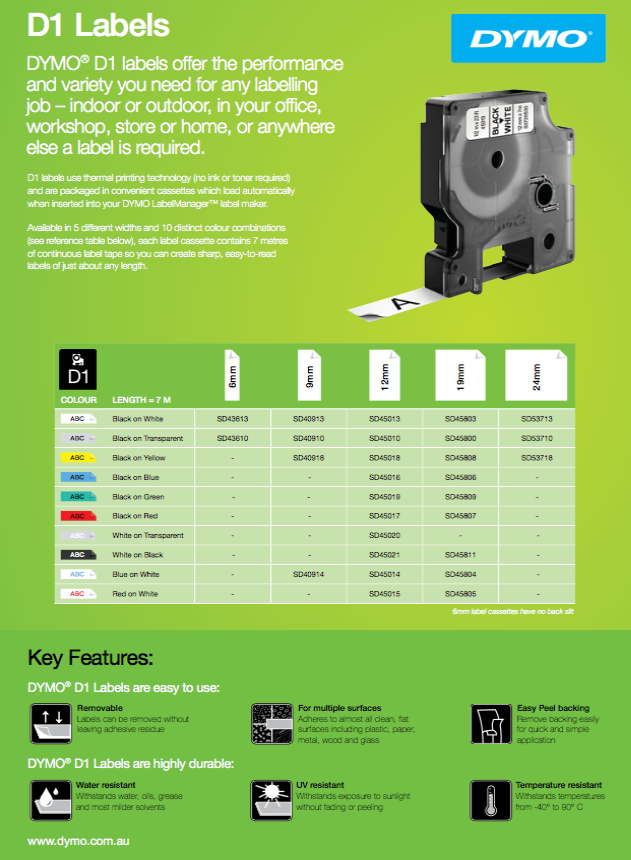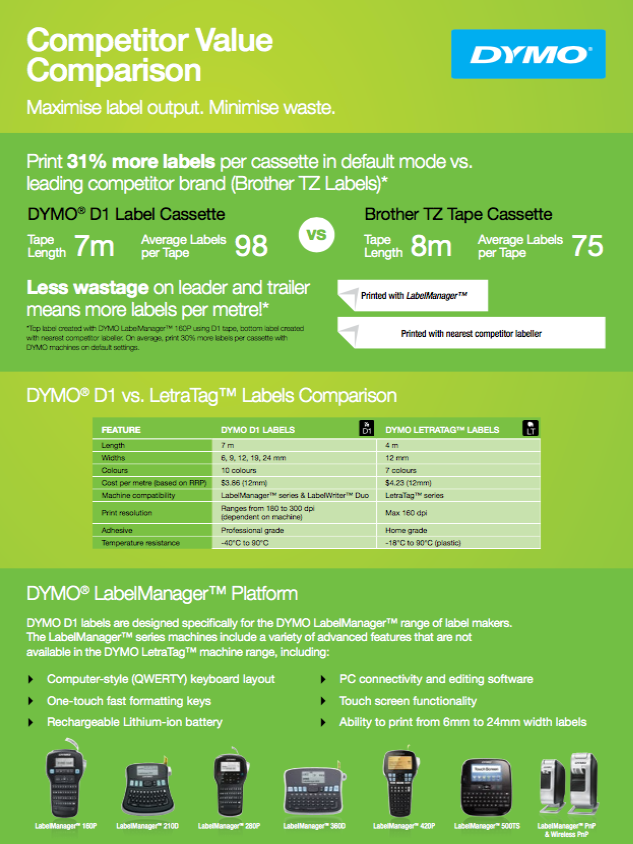 Links:
About DYMO
DYMO is fast-becoming the worldwide leader in providing innovative solutions that help people accomplish their tasks more easily and look good doing it. We believe that for many of the things people do every day, "There's got to be a better way," and DYMO products offer that better way.
DYMO offers a complete range of products for the office, warehouse, worksite, home and even the classroom. From simple embossers, manual label makers and desktop products to industrial portables, computer-connected products, and cutting-edge software and online service, DYMO is here to simplify your tasks while helping you look more professional.
From our initial beginnings in 1958 as an embossing company based in California, DYMO has grown to be a company with global reach. We were acquired by Newell Rubbermaid, a Fortune 100 company, in 2005, and have since broadened our product lines to include contact management software and business card scanning solutions, mailing and shipping scales and online postage. In the coming years, we plan to continue this expansion into other areas where we see the possibility of making people's jobs easier through innovative technology solutions.